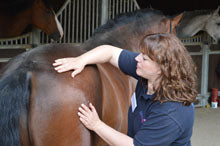 Joining Forces with NBCAAM
By
 

Amy Snow, Immediate Past-Chair, NBCAAM

The National Board of Certification for Animal Acupressure & Massage (NBCAAM) is for everyone involved in hands-on bodywork with animals and that includes all forms of touch therapies such as Tellington-Touch, Healing Touch, Shiatsu, etc. As a practitioner in these fields we all have the same concerns regarding: 
Working with the veterinary community in our states
Implementing our right to work
Dealing with legal & legislative aspects of our profession
Establishing & promoting educational standards, and,
Communicating with the general animal-guardian public.
We are a stronger force when we recognize and work toward a common goal of being able to practice and help animals in a responsible manner. Having different factions going off in different directions only fractionalizes all of our efforts thus making whatever we do less impactful. As a united front we can approach the issues confronting us in being able to practice with animals.
The original intention behind creating NBAAM is still the same – we wanted to establish professional standards based on core competencies for each discipline. Professional practitioners, instructors, and veterinarians came together to define the Scope of Practice in these fields. A huge amount of work went into the development of four examinations for equine and canine acupressure and massage. Over the past five years these examinations have been refined, study guides created, and most recently Review Courses in acupressure and massage are available for people wanting to take the examinations.
By developing standards we are saying, "We mean business!" Taking the exams is entirely voluntary, but it does add value to credentials. Even if people are not interested in taking an exam they can participate in NBCAAM and work toward the common good of legitimizing hands-on bodywork for animals – that's what's important.
We all have so much to gain by working together. NBCAAM has a Legislative Committee that's moving forward dynamically – there's much work to be done and we need all the help we can get. We have seen big changes in the rules and regulations in the States of Washington and Colorado so we know it can be done. Standards in education are keys to opening the doors to be recognized for what we have to offer.
Take a few minutes to review the NBCAAM website and please read the Mission Statement. Volunteer for a committee, let's join forces. We welcome committed people wanting to support animal bodywork for the good of all of us and so many animals. Together we are a force with which to be reckoned!